Research Interests


I. Gene Targeting in Mouse Models
Keywords : Knock in, Gene targeting, FGFR, Achondroplasia



II. Genome-Wide Expression Studies Using Microarrays
Keywords : p53, p73, apoptosis, UVB, skin cancer, stem cells, oligo microarray, DNA chips, clustering, bioinformatics, statistics

---
I. Gene Targeting in Mouse Models
Four fibroblast growth factor receptors (FGFRs) are known, and > 50 mutations in three of them (FGFR1, 2 and 3) have recently been implicated in congenital skeletal and cranial disorders. Achondroplasia, the most common form of dwarfism, was shown to be linked to a single point mutation, G380R, in the transmembrane region of FGFR3.
Dwarf mice produced by targeting FGFR3

We used gene targeting to introduce the human achondroplasia mutation G380R into the murine FGFR3 gene. Heterozygotes for this point mutation that carried the neo cassette were normal whereas neo+ homozygotes had a phenotype similar to FGFR3-deficient mice, exhibiting bone overgrowth. This was because of interference with mRNA processing in the presence of the neo cassette and represent functional inactivation of FGFR3. Removal of the neo selection marker by Cre/loxP recombination yielded a dominant dwarf phenotype. These mice are distinguished by their small size, shortened craniofacial area, hypoplasia of the midface with protruding incisors, distorted brain case with anteriorly shifted foramen magnum, kyphosis and narrowed and distorted growth plates in the long bones, vertebrae, and ribs. These experiments demonstrate that achondroplasia results from a gain-of-FGFR3-function leading to inhibition of chondrocyte proliferation.
Proc. Natl. Acad. Sci. USA, 96, 4455-4460, 1999. [pdf]

Anatomical defects in FGFR3 knock-in mutants.
a) Dwarfism in 5 weeks old mutant (right) and wild-type littermate control mice (left).
b) Growth curve of the neo- heterozygote and wild-type mice.
c) Comparison of the skull of a wild-type and mutant dwarf mouse showing the change in the foramen magnum (fm) position
and the protruding incisors (inc).
d) Skeletal defects in the dwarf mice. The arrow points to the craniocervical junction and thoracic kyphosis;
the arrowhead shows the facial shortening and overgrowth of incisor teeth.
---
II. Genome-Wide Expression Studies Using Microarrays
Recently we used the Affymetrix® oligonucleotide GeneChip® microarray technology to analyze the expression of thousands of genes in parallel. Total RNA from different samples/experiments was extracted and used to generate target labeled cRNAs that were hybridized to the latest versions of whole human genome GeneChip® expression microarrays : HG-U95Av2 (~12,000 mRNA species) and more recently HG-U133A (~22,000 mRNA species). For all genes in all samples/experiments, the expression signal for each of these genes was determined from the 'probeset' in use for this gene and by the probe level data analysis software available : 1) signal generated by the Affymetrix® Microarray Suite Software 5.0 2) or Model Based Expresion Indexes (MBEI) generated by the dChip 1.3 package recently developed in Wing Wong lab from the Harvard School of Public Health.

Clustering analyses were performed by using the Supra Paramagetic Clustering (SPC) algorithm, developped in the lab of Eytan Domany at the Weizmann Institute of Science. More recently, a more sophisticated clustering algorithm Coupled Two Way Clustering (CTWC), designed to mine gene expression data, has also been developped and successfully applied. CTWC is an iterative unsupervised procedure, which uses the SPC algorithm as its clustering engine. The algorithm identifies subsets of genes and samples such that when one of these is used to cluster the other, stable and significant partitions emerge. The method allows for the detection of small subsets of genes that partition between the samples, and thereby identifies small number of key genes, which may play a role in a particular biological process.
This procedure avoids the "noise" introduced by other genes, which may mask the signal of the important players.

---
DESIGN OF AFFYMETRIX GENECHIP® EXPRESSION ANALYSIS SYSTEM

Schematic representation of the Affymetrix GeneChip® expression analysis system in use.
The Probe Array contains ~22,000 Probe Sets on a surface of ~ 1.2 cm2


---
PROBE SET


Representation in false color of the differential hybridization (e.g of the p21Waf1 gene)
on two identical Probe Sets (from two different microarray GeneChips®),
between control and induced expression experiments (PM=Perfect Match, MM=MisMatch)

---
CLUSTERING BY SPC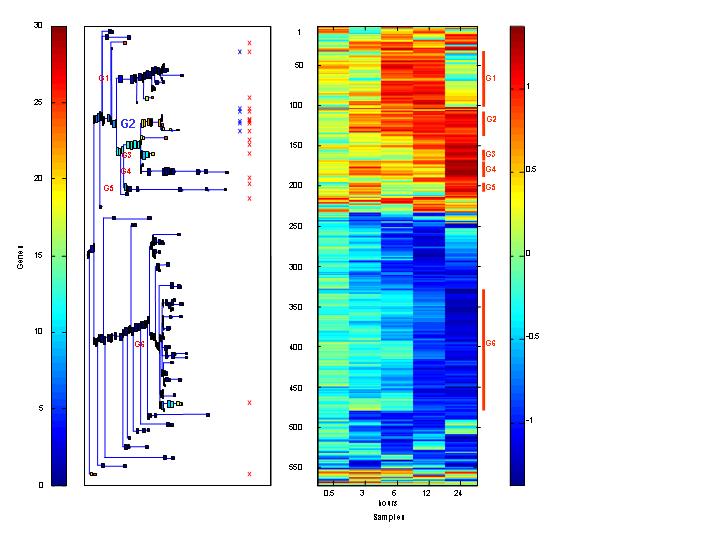 Dendrogram and expression matrix e.g. of gene expression data


---
CLUSTERING BY CTWC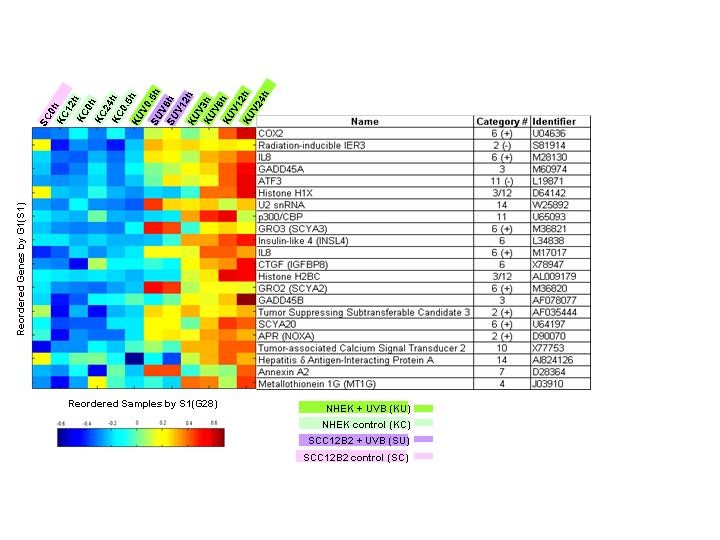 Subset of genes (cluster) determined by CTWC


---

Weizmann Institute of Science
Department Molecular Cell Biology
76100 Rehovot, Israel
Phone: +972-8-934-3634
Fax: +972-8-934-4125