Johann Sebastian Bach (b. Eisenach, March 21, 1685 - d. Leipzig, July 28, 1750)
Nicht Bach! Meer sollte er heissen: wegen seines unendlichen, unerschoepflichen Reichtums an Tonkombinationen und Harmonien." (Not "brook" [in German: Bach], but "sea" should he be called --- because of his infinite, inexhaustible richness in tone combinations and harmonies.) --- Ludwig van Beethoven

Wir sind alle Stuemper gegen ihn. (We're all plodders compared to him.) --- Robert Schumann

Studiert Bach! Dort findet ihr alles. (Study Bach, there you'll find everything.) --- Johannes Brahms

Das ist doch einmal etwas, woraus sich was lernen laesst! (At last, this is something I could learn from!) --- W. A. Mozart, upon hearing his first Bach composition.
| | |
| --- | --- |
| | The "mysterious symbol" you see on Bach scores is in fact the composer's monogram. Under the crown you can clearly see (slanting almost 45 degrees downward) the calligraphed letters JSB; this design is superimposed on its mirror image. |
Disclaimer: any opinions expressed on this webpage are those of its author, and in no way purport to be those of his employer.
Some links for the Bach enthusiast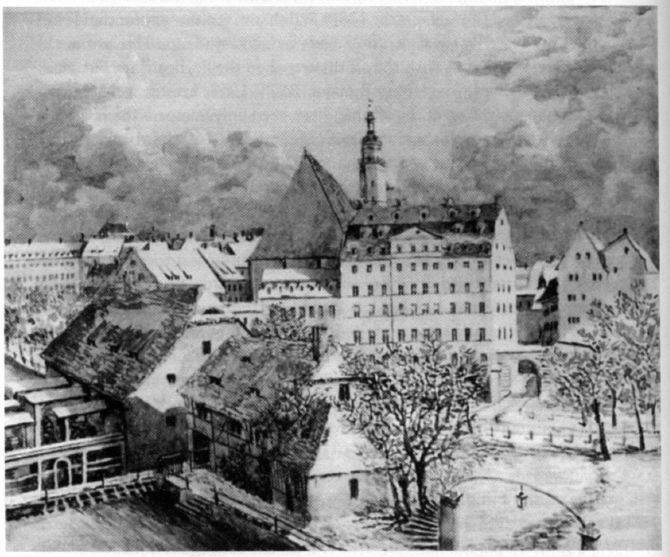 Watercolor painting by Felix Mendelssohn-Bartholdy (dated 1838) of the Thomaskantorei in Leipzig. Original held by Sotheby's of London: low-resolution scan from p. 390 of Prof. Christoph Wolff's delightful book, "Johann Sebastian Bach: the learned musician" (W. W. Norton, 2000). The three windows on the first floor (European count) corner above the gate (through the old inner city walls) were almost certainly those of J. S. Bach's "Komponierstube" (composing studio). The Bach family apartments (only about 75 m2, including the Komponierstube!) were located on the ground and first floor. Historical photographs of the Thomaskantorei before its demolition in 1902 can be found here.
My personal JSB top ten:
Having to pick my ten favorite Bach works is truly "l'embarras de choix" (the embarrassment of riches). Let me try anyhow (in no particular order):
The Art of Fugue BWV1080 (first choice: the piano version by Tatiana Nikolayeva, second choice: the orchestration by Hermann Scherchen). The "Western Wall" of contrapuntal music. The most difficult work for the casual listener (the orchestral version of Scherchen is perhaps the most accessible one, since it helps the listener distinguish the different voices and themes), but the most rewarding. Bach wrote a first version in 1741-2 which had only 12 fugues of increasing complexity, plus two canons. At some point, Bach added two additional canons and a "mirror fugue", then started writing what appears to have been intended as a quadruple fugue (i.e. with four themes). The manuscript breaks off just before the point where the fourth subject (the subject of the very first fugue in the cycle) was to have been combined with the other three themes as the "grand finale". Scherchen builds up to an enormous crescendo, then fades into nothing on the last notes in the manuscript; Glenn Gould's piano version abruptly breaks off on a crescendo in mid-air; both Davitt Moroney (harpsichord) and Helmut Walcha (organ) tried to reconstruct how Bach would have ended it if death had not staid his hand forever. Moroney's ending (MIDI file available here) is the simpler and more convincing one. Tatiana Nikolayeva's double CD has a nice bonus, namely the 3- and 6-voice Ricercars from The Musical Offering BWV1079.
Goldberg Variations BWV988 (Glenn Gould, piano, 1981 digital recording). I quite literally never tire of hearing this piece (a sarabande and 30 variations).
The six French Suites (Glenn Gould, piano).
Fantasy and fugue in G minor BWV542 (Helmut Walcha or Michel Chapuis, organ). One of the two greatest pieces in the entire organ literature. The drama and chromaticism of the fantasy contrast and mesh at the same time with the tight and rhythmically driven fugue. In all probability, Bach wrote it as an "audition piece" for the position of organist at the Jacobikirche in Hamburg, and it is as technically flashy as it was musically audacious for its day. (The theme of the fugue, a Dutch folk tune, was a nod to the retiring organist, Dutch-born J. A. Reinken. It is the ring tone of one of our cellular phones.) Bach got offered the job but refused to make the substantial donation to the church treasury that was expected of all new appointments, and hence stayed in Weimar.
Passacaglia and fugue in C minor BWV582 (same performers). The other greatest organ piece. The "passacaglia" is twenty different variations on the same eight-bar "ground" (bass ostinato). The fugue subject and countersubject are both derived from the same theme. Recent research suggests that Bach may have written it while he was a mere 18 years old (after an extended visit to Luebeck to hear D. Buxtehude, who wrote several extensive passacaglias). "Bach is Bach, as G-d is G-d" (Hector Berlioz).
5th Brandenburg Concerto in D major BWV1050. Pure "joie de vivre" set to music. The best example that a concerto can be both virtuoso and highly musical, and not bore for a second. I grew up with Karl Richter's classic recording, but was very pleasantly surprised by Walter Carlos' synthesizer arrangement. (Glenn Gould, not exactly one to go in for musical fads, was very fond of Carlos' Bach renditions because of a degree of voice separation --- and hence contrapuntal clarity --- that is well-nigh impossible to achieve with conventional instruments.)
Fugue in D minor BWV539 (alternatively, the sonata in G minor for solo violin BWV1001, which contains another version of the same fugue). Bach was justifiably very proud of this fugue, to the extent that he wrote no less than three versions of it (the third for lute or guitar BWV1000, likewise transposed to G minor).
Partita in D minor for solo violin BWV1004. The "Chaconne" at the end enjoys a deserved reputation as the "Mount Everest" of solo violin music. My favorite performances are Itzhak Perlman, followed by Henryk Szeryng.
WTC book 1. The Well-Tempered Clavier (two sets of 24 preludes and fugues in all major and minor keys) is the "Torah" of piano music, like Beethoven's sonatas are its "Neviim" (Prophets). Book I (according to one theory, composed in part while sitting in the Weimar jail as punishment for taking another job without his employer's consent) is more varied in form and texture (e.g. fugues ranging from two to five voices), while Book II (composed two decades later) is somewhat more rigorous formally and explores some pre-classicist style elements. They are a universe in themselves, so I have trouble picking favorites. Yet especially noteworthy from Book 1 are: C major (the fugue is a little numerological gem, with the theme entering exactly 24 times), C minor (the prelude really "rocks" if played with a tight beat), C# minor (marvellous triple fugue in five voices), Eb major (wonderfully gentle and reflective prelude harking back to older "Ricercar" styles), F minor ("De Profundis" like only Bach can be), Ab major (zest for life bubbling over), A minor (after the short prelude, the extensive fugue gives people with organophobia a feeling of what Bach's virtuoso organ works would sound like if they were playable on the piano), Bb minor (a prelude full of restrained sorrow that sounds like it was written with a string orchestra in mind --- some speculate Bach wrote it upon the death of his first wife Maria Barbara Bach --- followed by a five-voice fugue that sounds like choir music), and B minor (the theme uses all 12 tones on the chromatic scale yet proves that that can be done without degenerating into atonality).
WTC book 2. See above. The Db major is especially nice, as is the F# minor (whose prelude strangely anticipates on both Chopin nocturnes as well as on the adagio in the same key of Beethoven's "Hammerklavier" sonata, both written almost a century later!), Bb minor (a gem of a fugue).
10th piece? I can't make my mind up between the Chorale Partita in G minor "Sei Gegruesset" BWV768 (a series of variations on a Lutheran hymn), the Toccata, Adagio and Fuga in C major BWV564 (aside from the rapid manual and pedal solos at the beginning, really a 3-movement "Italian concerto" for organ solo), the Keyboard Concerto in D minor (Glenn Gould, piano; Leonard Bernstein, conductor), the Leipziger Chorales, the Fantasy in G major for organ BWV578, the Partitas for keyboard, the French Overture BWV831, the Organ Prelude and Fugue in Eb major BWV552 (which opens and closes the 3rd part of the Clavieruebung)... Well, you get the idea :-)
Some questions and answers not covered in Bernie Greenberg's excellent BachFAQ
How do I know whether or not Bach wrote something? For questions of authenticity, the latest edition of the Bach Werke Verzeichnis (BWV) is considered the authoritative source. The first edition (1950) already listed a number of pieces of doubtful origins in an Anhang (Appendix). Since then, another set of genuine Bach works has been discovered and given BWV numbers, but of an about equivalent number the true author has been established to be someone other than JSB. In order not to force everybody to renumber everything, such works do keep their original BWV number but are in addition listed in Appendix III (if true author certain) or Appendix II (if doubtful). Appendix I lists lost works known to have existed at one point (e.g. from descriptions by contemporaries, correspondence, or preserved text of a libretto).

How much of Bach's music has survived? Depends. According to Prof. Christoph Wolff, at most 40% of his church cantatas survive today. The music was not printed, and only a single composing score and a single set of parts existed of most of them. Upon Bach's death, these were distributed among his sons. Those handed on to C. P. E. Bach were cherished and have generally survived; the other sons were less careful. The librettos of cantatas were printed more often (it was much cheaper to do so) and hence a number of librettos have survived of which the music has been lost.
The attrition rate for orchestral music was somewhat less horrifying. Most of Bach's keyboard and organ works have probably survived thanks to his being very much in demand as a teacher on these instruments: students made their own copies of the works assigned to them by their teacher, thus creating several "backups" for each manuscript. Only very few works were printed in Bach's lifetime, almost all of them keyboard music. Bach arranged for having The Art of Fugue printed in his lifetime, but the first edition appeared one year after his death.
Did Bach really write Toccata and Fugue in D minor BWV565? While it is undoubtedly Bach's best-known organ piece (and perhaps the best-known organ piece, full stop [excuse the pun]), it is musically much less "mature" than Bach's other great organ compositions: therefore it was often regarded as either a youthful work or a composition by a Bach epigone. No other known Bach keyboard piece includes extensive runs of parallel octaves, nor such a liberal sprinkling of tempo change indications. In addition, Bach in later years minced no words in expressing his distaste for what he termed "Klavierhusaren" (freely: Riders of the Keyboard Cavalry), i.e. composers of music filled with flashy passage work but superficial in structure. Being by all accounts as exacting of himself as he was of others, Bach would presumably not have deemed BWV565 a worthy example of his composition "ideology" to his students --- hence its oddly peripheral transmission. In consequence, some people have argued that it was not a Bach piece at all. Alternatively, Bach scholar Peter Williams argues that it was a much later organ transcription (by an unknown third party) of a Bach piece originally written for solo violin (hence the sketchy counterpoint, some arpeggios that are more idiomatic for the violin than for the organ, and more). Moreover, to fit the violin range well the original would have to have been in A minor. [See here for a detailed discussion.] However, Prof. Christoph Wolff points out that the organ at Arnstadt --- unlike other organs played by Bach --- did not have a 16-foot stop to "flesh out" the tutti ("all open") organ sound. One workaround is of course to simply double up the passage involved one octave below with your left hand --- which is exactly what happens all over the place in the Toccata! Also, Bach was barely 18 when he took the Arnstadt job. In short: the theory that best fits the observations is a youthful work by Bach.
Why do some "authentic" performances of Bach sound out of tune? Related question: What do the terms "chamber pitch" and "choir pitch" mean?. The prevalent tuning of most instruments in Bach's time ("chamber pitch") was A=415 Hz, almost a semitone lower than modern tuning (A=440 Hz). Most exponents of "authentic Baroque performance practice" tune their (generally historical or reconstructed) instruments to A=415 Hz nowadays: if you have absolute rather than relative musical hearing, this is bound to drive you up the wall (one reason why I avoid "authentic" performances like the plague).
In contrast, many organs in Bach's days were tuned to "choir pitch" (about a full tone higher than "chamber pitch" and about a semitone higher than modern pitch) in order to save metal (all pipes being about 10% shorter this way).
Finally, some of the most fanatic "authenticists" insist on not playing in equal temperament but in other so-called 'well-tempered' tunings (see next item). If you have really fine musical hearing and have gotten used to equal temperament, the harpsichord will sound a bit odd. String players have a natural tendency towards Pythagorean intonation, and temperament (only in the musical sense of the word!) is anyhow less of an issue there.
What is the difference between 'Well-Tempered' and 'Equal-Tempered'? Equal temperament is the tuning system used on modern fixed-pitch instruments, in which the octave is divided in twelve equal parts. In this scheme, no intervals except the octave are 'pure', all keys are playable, and all keys are equivalent in terms of relative pitch. At the other extreme stands just intonation (a.k.a Ptolemaean tuning), in which all intervals in the C major scale are 'perfect' simple ratios (e.g. 3/2 for a perfect fifth, 5/4 for a perfect major third,...) akin (but not identical!) to the 'natural' scale of overtones. (The latter contains a 'natural seventh', 7/4, which does not exist in Western classical music: it can be heard from blues guitarists.) The trouble with Ptolemaean tuning is that music in any key other than C major sounds out of tune. Pythagorean temperament (commonly heard in string players) is based on stacking up pure fifths (3/2), leading to "sharp" Pythagorean thirds(81/64 rather than 5/4): in addition, it is easily seen that after stacking up twelve pure fifths, you do not get back exactly to C: the difference of about a fifth of a semitone is known as the 'Pythagorean comma'. So-called 'mean tone' tuning tries to get rid of the Pythagorean thirds by tuning fifths to 51/4 rather than 3/2. This leads to a tuning that sounds 'clean' in C major and tolerable up to three sharps and two flats, but intolerable to outright painful in 'remote' keys like F# major or Eb minor. (This was the prevalent tuning when Bach started his career.) A number of theoreticians, notably Werckmeister, advocated 'well-tempered' tunings which would remain playable in all 24 keys. Modern equal temperament is one special case of the more general 'well-temperament'. Other well-tempered tunings have unequal intervals, and hence every key acquires its own characteristics even to a listener with relative pitch.
It is unclear to the present day what the 'well-tempered' tuning is that Bach had in mind for the 'Well-Tempered Clavier'. At one extreme is the position of Kellner who claims to have reconstructed the specific well-tempered tuning due to Werckmeister that Bach allegedly used. At the other extreme stands R. Rasch (1985), who argues equally persuasively that Bach in fact did use equal temperament. Those fascinated by the "temperament" problem might be interested in the following web resources: Pythagorean tuning and polyphony (book-length essay on all manners of tuning, not just Pythagorean), Tuning Reference Page at midicode.com (has very neat tables), Temperaments comparison page, The Well or Equal Tempered Clavier? (essay by Gordon Rumson), Historical tunings explained, and Understanding temperaments. Of course, if your favorite Bach performers are Glenn Gould or Andras Schiff, then equal temperament is all you get. (I am willing to pay that "price" for listening to Glenn Gould.)
Isn't it "wrong" to play Bach on the piano rather than the harpsichord (cembalo)? First of all, by all accounts, Bach's favorite keyboard instrument for playing for himself and those present at his home was the clavichord. Unlike the harpsichord, the clavichord is velocity-sensitive (i.e. you can play soft and loud, like on a piano), but its sound is too weak for a concert hall. The piano (and its predecessor, the fortepiano) were developed in no small measure to combine the "piano e forte" (soft and loud) capabilities of the clavichord with the greater volume of the harpsichord. One early fortepiano builder, Gottfried Silbermann, was not only a close friend of Bach but was in contact with the latter concerning improvements in his design. (Moreover, records of purchases of Silbermann fortepianos through "Kapellmeister J. S. Bach" have been preserved: see Prof. Wolff's book.) Considering Bach's lifelong love for the technical details of instrument making (as witnessed e.g. by his steady second income as what we would nowadays call a "consultant" or "quality control expert" on organ construction, his invention of a 5-string viola which he named the "viola pomposa", and his lifelong insistence that only he could tune and adjust his harpsichord to his satisfaction) it is quite likely that he would have embraced, rather than rejected, technical innovations in instrument making such as represented by the modern piano.
I heard a performance of the 3rd Brandenburg concerto. Why is the middle movement just two chords? In Bach's time, improvisation skills were taken for granted from good musicians. The second movement was in fact meant to be a free improvisation by the harpsichordist (Bach himself, a legendary improviser in his day), the only "boundary condition" being that it had to lead up to a Phrygian cadence (the two chords written out in the score). Very few present-day classical musicians are facile improvisers, so most do not even try and just go for the "safe but trite" solution. Good musicians with a flair for improvisation are nowadays to be found in your local jazz club or even in a progressive rock band, not on the classical concert stage. Violinist Nigel Kennedy was on to something when he referred to JSB as "Jazz Bach" :-)
The most far-out rendition I have ever heard is certainly that on Walter/Wendy Carlos's "Switched-on Bach" album. It sounds like what you might get if you could seat JSB behind a couple of synthesizers and ask him to improvise something along the lines of BWV903/1 and BWV542/1. (I'd give an arm and a leg to be able to do that!)
I heard that some rock musicians are very fond of quoting Bach The most complete source I could find on classical quotations in rock music is a Ph.D. Thesis (in German) by somebody at the Free University of Berlin. Perhaps the one band that took this furthest was (1970s progressive rock group) Emerson, Lake and Palmer, whose keyboardist (Keith Emerson) would often quote entire movements of Bach pieces note-for-note as instrumental breaks (with bass and drums provided by his two band mates).
I read a very interesting book "The Little Chronicle of Anna Magdalena Bach". Is it for real? I must admit that I devoured the Dutch edition of the book when I was 15 or so and had just discovered JSB. Well-written if somewhat sentimental, based on many known facts about the life of JSB with some legends thrown in for good measure... it is a complete work of fiction written by Esther Hallam Meynell (Chatto and Windus, London, 1925).
I read somewhere that Bach's IQ has been estimated as 185. I shudder at the thought of how this number was "derived". There can however be no doubt that Bach's intellectual abilities were in a class by themselves. The fact that Bach was not only able to solve the staggering intellectual puzzles involved in his more ambitious polyphonic works, but had enough mental "surplus power" to turn them into not just successful academic exercises but emotionally stirring pieces of music, speaks for itself.
Nor was this talent limited to music. True, his formal education was limited to Latin high school (he was the only Thomaskantor since the Reformation who did not have an academic degree), but he entered the prima (the final grade of said high school) four years younger than his classmates. This suggests a precocious mind in areas other than music as well.
Bach either displayed the type of humility that comes with true genius, or took his singular mental abilities for granted and did not realize just how unique they were. In his own words: "Ich habe fleissig sein muessen ; wer ebenso fleissig ist, der wird es ebensoweit bringen koennen." ["I was obliged to be industrious; whoever works equally hard will be able to get just as far."] Or, when queried about his gifts at the organ: "Da gibt es kein Geheimnis. Man muss nur zur rechten Zeit die rechten Tasten mit der rechten Staerke druecken, dann gibt die Orgel ganz von selber die allerschoenste Musik." ["There's nothing to it. You just have to press the right keys with the right force at the right time, and the organ will produce the nicest music all by itself."]
Is it true that Bach had trouble getting his last job, and that he got it only after two other candidates turned it down? The "last job" in question was that of Thomaskantor of Leipzig, i.e. musical director and prefect of the city's St.-Thomas high school and the principal Lutheran churches in the city. The position had a dual character: musical and educational. Some members of the administration were very reluctant to hand what was in effect the educational direction of the city's best high school over to a man without a university degree --- and felt that they needed an educator first, a composer second, and an instrumental virtuoso third. (To my knowledge, Bach was the only Thomaskantor since the Reformation who did not have an academic degree.)
Incidentally, Bach made no secret of his lack of enthusiasm for some of the general education duties of the Thomaskantor --- such as the teaching of Latin, for which he hired a substitute from his own pocket.
The city board's first choice was G. F. Telemann, possibly the best-known German composer of his day (time has corrected a great injustice) and then city music director of Hamburg. Telemann not only had a law degree from Leipzig University but had started his own musical career as director of the Leipzig city opera. (A personality conflict with the previous Thomaskantor, J. F. Kuhnau, had led to his departure. The post became vacant upon Kuhnau's death.) After a long hesitation, Telemann decided he was better off in Hamburg: being a friend of Bach's, he may have encouraged the latter to apply.
The city's second choice was another "old boy", the now-forgotten Christoph Graupner, who in addition had studied composition with Kuhnau. His then-employer, the Landsgraf (count) of Hesse-Darmstadt, refused to grant him permission to leave, which effectively reopened the search.
The events remind me of the Talmudic story about Rabbi Nachum of Gimzo, who acquired his nickname "Gamzu" because of his habit of saying at every disappointment "Gam zu le-tova" (this too is for the good). There is no doubt that Leipzig did a much better deal on their 3rd candidate than they would have on either of their two first.
Did Bach ever finish the last fugue of "The art of Fugue"? The inscription added by C. P. E. Bach on the last manuscript page: "At this point... the composer passed away" certainly sounds good as a story, but is hard to reconcile with what has become known of Bach's last months. (For one thing, the musical handwriting is too regular to have been written in Bach's last days, when he was wholly or nearly blind. Yet it is generally agreed to be in his own hand, and not dictation to a student or copyist. Therefore, it almost certainly predates his final illness.) According to Prof. Wolff, Bach may have interrupted his work on the last fugue at the moment the manuscript breaks off (just before the hypothetical entry of the fourth subject, which would have been the same one that started off the first fugue), in order to work out the possible combinations of all four themes on a separate piece of paper first. This is not an easy task, and it is doubtful that even Bach would have been able to carry it out in his head. Then he may very well have woven some material around the possible combinations, thus creating a "fragment X" that would have basically completed the fugue but is now lost.

Was it a triple or a quadruple fugue? The title "Fuga a 3 soggetti" (Italian: Fugue with 3 subjects, i.e. triple fugue) in the printed edition was added after JSB's death. It is almost unimaginable that Bach would not have reintroduced the main theme of the cycle (the theme of Contrapunctus I) in its final fugue, so a consensus exists among musicologists that Contrapunctus XIV was intended as a quadruple fugue (one of a very very few in the musical literature), with a reprise of the Contrapunctus I subject as the fourth theme.
Did anyone else every try to complete it? I am aware of the following attempts:

One by the 19th-century theoretician Hugo Riemann. (If somebody reading this has more details, please Email me --- thanks in advance.)
Fantasia Contrappuntistica (1912) by the Italian composer and virtuoso pianist Ferrucio Busoni. Like Busoni's piano transcriptions of Bach organ pieces and of the Chaconne for solo violin, apparently more Busoni (somebody for whom "over the top" was a compliment) than Bach.
The British musicologist D. F. Tovey wrote his own completion as part of an edition for string quartet of The Art of Fugue. It can be read in PDF format as well as heard as a MIDI file. Much more restrained than the Busoni, but quite recognizably not Bach.
The legendary blind German organist Helmut Walcha prepared his own completion, which can be heard on his recording of the Art of Fugue (recently reissued as part of his 12-CD set "Bach --- the organ works"). It is a fine piece of organ music, at times too idiomatically so to be credible as being what Bach had in mind (unless you believe, like Walcha, that Bach intended The Art of Fugue as organ music --- among musicologists, Walcha appears to be in a minority of near-one in this respect).
Another, more recent (1990), completion by composer and organist Michael Ferguson. [Read more details here]
The British harpsichordist and musicologist Davitt Moroney built a "less is more" completion starting from the assumptions that (a) all four themes are to be combined; (b) the whole should --- like the other Contrapuncti --- remain playable with two (skilled) hands on a keyboard. Only two combinations of the four themes "satisfy the boundary condition" (b); in addition, the third ("B-A-C-H", from the German names of the four first notes) theme lends itself very well to a "stretto" which Bach would have kept for the final section. With some brief connecting passages, this seems to be the most satisfying completion yet. [You can download a MIDI file of the completion here --- for playback or for viewing in a MIDI-savvy music score editor, like Melody Assistant for Macintosh and Windoze.]

Yet somehow I wonder if Glenn Gould --- who, from a performance point of view, probably understood Bachian counterpoint better than anybody --- did not make the right decision by ending his recording abruptly on the last complete bar that has come down to us --- making it clear, in his very Gouldian way, that the logical ending of a peerless masterpiece is lost and gone forever.
Let us leave the last words to 20th-century composer Mauricio Kagel... "Es mag sein, dass nicht alle Musiker an G-tt glauben, an Bach jedoch alle." [Perhaps not all musicians believe in G-d, but all of them believe in Bach.]

... and to organist Helmut Walcha:
"Bach opens a vista onto the Universe. After hearing him, people feel there may be meaning to life after all."

Comments? Write comartin@wicc.weizmann.ac.il

Back to computational chemistry home page